Things To Do in Woodmead

Yeesh! Fun for Kids Woodmead

Family Entertainment Wheelchair Friendly Johannesburg Sandton

Where? Unit G6, Woodmead Commercial Park, Woodmead, Johannesburg

When? Tuesdays to Sundays from 09h00 to 17h00, including public holidays.

How? Call +27 (0)83 923-2306

How much? Falls into price group R1 to R100 per person. Confirm with the provider.

Overnight? Stay at accommodation in Woodmead, in Gauteng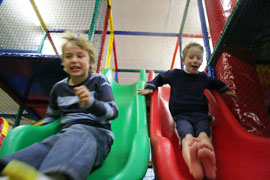 At Yeesh! we have a wonderful upmarket coffee bar for you to relax whilst your children are supervised with fun, interactive staff. Come and have some time out, adult music to listen to, magazines to read or just enjoy the ambiance.
Children are kept occupied on a large two story obstacle course - jumping castle, trampoline, ball ponds etc. They can also paint a piece of pottery to take home.