Things To Do in Glenferness

Ludwig's Roses Egoli

Nurseries Parks & Gardens Midrand

Where? 97 Lachlan Road (on the corner of Main Street), Glenferness, Midrand, Johannesburg.

When? Monday to Sunday from 09h00 to 17h00.

How? Call +27 (0)11 458-6045

How much? Free to browse

Overnight? Stay at accommodation in Glenferness, in Gauteng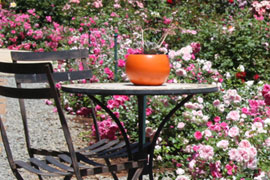 Ludwig's Egoli is Johannesburg's rose-laden heart, a place where beautiful colours and equally irresistible scents combine in a carpet of the world's most romantic bloom. Ludwig's Egoli is conveniently situated on Main Road in Glenferness, making it accessible and central.
This flower hub stocks 1 000 rose varieties, as well as accessories and rose products for the real enthusiast. Fresh cut roses are available every day, and Ludwig's delivers to Johannesburg and surrounding areas. The sheer variety and quality is breath-taking. The staff members are knowledgeable and willing to advise customers. They will assist with landscaping, information on the health of the plant, specialist requirements, and more. The Thorns 'n Things Rose Boutique products are showcased at Ludwig's Egoli, making fabulous gifts.
See other branches of Ludwig's Roses ...
Ludwig's Roses Winelands in Stellenbosch, Cape Winelands
Ludwig's Soleil Cut Roses in Lynnwood, Pretoria
Ludwig's Star Roses in Hillcrest, KwaZulu Natal
Ludwig's Rose Farm located North of Pretoria, Gauteng