Things To Do in Boksburg

East Rand Food Market

Arts & Crafts Craft & Flea Markets Farm Stalls & Markets East Rand

Where? Corner Ridge & Elizabeth Roads, (across El Ridge Shopping Centre), Boksburg, East Rand, Gauteng

When? Every Sunday from 09h00 to 15h00.

How? Call +27 (0)82 785-6389

How much? Free to browse

Overnight? Stay at accommodation in Boksburg, in Gauteng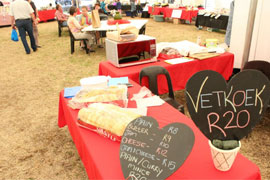 Come and experience all you can at the East Rand Food Market in Boksburg where the focus is on fresh produce, home made goods and delicious food that is prepared onsite and is ready to purchase and eat at the market. Also on offer are various hand made crafts.
This is a meeting place for all who enjoy quality food while relaxing on a good day out. Meet the producers and buy directly from them. The perfect spot to get all your fresh goodies for the week and to support your community of local producers and small business owners. Plenty of seating awaits you where you can enjoy the splendid atmosphere while keeping an eye on your children in the playground.
From chilli plants to cheese, olives, breads, jams, cakes, biltong, wild mushrooms. And to eat there meatball sandwiches, mushroom kebabs, vetkoek & mince, gourmet boerewors rolls, crepes and so much more! Even a few slimming secrets after the very tasty day ...