Things To Do in Coffee Bay

Coffee Bay Beach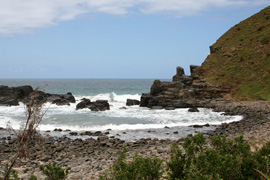 Coffee Bay is one of South Africa's most popular backpacking getaways, and welcomes thousands of international tourists to its coastline every year. There is an irresistible vibe here that infuses every backpacking lodge, restaurant, beach and campsite with a touch of eccentric allure.
The Coffee Bay Beach is simply spectacular. It extends from the Nenga River Mouth, and is set against the backdrop of black-faced cliffs, white sand, and jade hills and mountains. This stretch of beach is popular for horse riding, surfing, swimming and sunbathing. In addition, the extended coast is loved for its walking and hiking opportunities.
One of the most popular trails stretches to the magnificent Hole in the Wall. There are some hotels and restaurants along the way that, while laid-back, offer gorgeous views and welcome refreshments.