Restaurants in Vredehoek
Restaurants: Cafés & Coffee Shops
Showing 2 of 2 restaurants in this category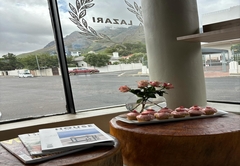 Where? Vredehoek
Situated in the residential area of Vredehoek, on the edge of the city and at the foot of Table Mountain, Lazari stands out as a fun, vibrant and always reliably excellent coffee shop. Decorated in trendy ...
Where? Vredehoek
Coffee, breakfasts, light lunches, an atmosphere, the best DVDs in town, and free WiFi – that's Red Sofa Café in a nutshell. One of the best little coffee shops in town, it began as an extension of the DVD ...
Filter restaurants
in Vredehoek, Cape Town
©Unauthorised use of the
photos is strictly prohibited.