Restaurants in Pearly Beach
Restaurants: Bistros & Pubs
Showing 1 of 1 restaurant in this category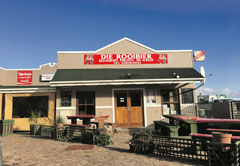 Where? Pearly Beach
The local pub and restaurant Die Rooibier in Pearly Beach is the place to go to mingle with the locals and have a good party! They are also well known for their excellent spare ribs or freshly caught fish - ...
Filter restaurants
in Pearly Beach, Western Cape
©Unauthorised use of the
photos is strictly prohibited.