Restaurants in Malelane
Restaurants: Fine Dining
Showing 1 of 1 restaurant in this category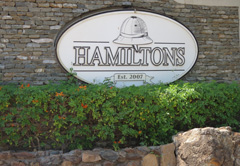 Where? Malelane
Hamiltonís Restaurant is idyllically situated on Riverside Farm in the heart of the agricultural hub of Mpumalanga, South Africa. This family eatery is, in fact, on the Malalane Gate Road, outside Kruger ...
Restaurants: Bistros & Pubs
Showing 1 of 1 restaurant in this category
Where? Malelane
Come and visit the very friendly Duck 'n Dive Saloon set in the heart of Malelane. It is a great pub with fantastic staff and delicious food. Travelling city to city?? Hop on the Translux, they all stop at ...
Filter restaurants
in Malelane, Mpumalanga
©Unauthorised use of the
photos is strictly prohibited.