Western Cape and Cape Town Maps
Cape Argus Pick n Pay Cycle Tour Route Map
A Route map of the popular cycle race held annually in Cape Town showing refreshment stations, support and medical points along the route. The Cape Argus Pick n Pay Cycle Tour is the largest timed cycling event in the world, attracting in excess of 35 000 cyclists from around the globe each year. For additional information please see Cape Argus Pick n Pay Cycle Tour. If you are participating in this event we strongly recommend that you make your Cape Town accommodation arrangements in good time to avoid dissapointment.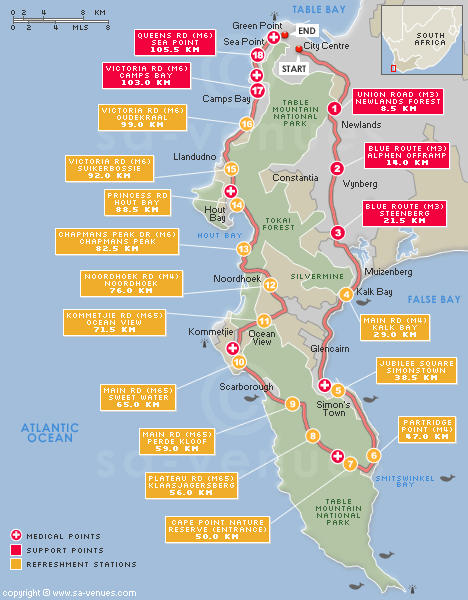 Related Links
Popular Attractions in Cape Town

With its majestic icon Table Mountain backdrop and pristine beaches, Cape Town is considered one of the most beautiful, culturally diverse cities in Africa. Between the high-rise office blocks, Edwardian and Victorian buildings have been meticulously preserved ... cape town attractions and destinations

For nearly 400 years, Robben Island, 12 kilometres from Cape Town, was a place of banishment, exile, isolation and imprisonment. It was here at Robben Island that rulers sent those regarded as political troublemakers, social outcasts and the unwanted of society. During the apartheid years Robben Island ... more information

At the south-western tip of South Africa, the Table Mountain National Park encompasses the incredibly scenic Peninsula mountain chain stretching from Signal Hill in the north to Cape Point in the south, a distance of approximately 60 km. The narrow portion of land with its many beautiful valleys, bays and ... more information

Visiting the Western Cape?
See Things To Do in Western Cape (search by category, price range or region) to see if any festivals or annual events are taking place during your stay.