Where? Ficksburg
When? 15-17 November 2018
(next date to be confirmed)
Dates for 2018 to be confirmed >> Ficksburg is known throughout the country as the Cherry Town, and the two have become synonymous with each other. The ...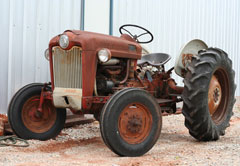 Where? Clocolan
When? 02-03 March 2019
Dates for 2019 To Be Confirmed >> Every year since 1989 a Vintage Tractor and Engine Fair has been held in the village of Clocolan, in the scenic Eastern Free ...