Arniston Child / Family Friendly Accommodation
Child friendly hotels and accommodation in Arniston - including family hotels, guest houses, bed & breakfasts, holiday apartments, suites, cottages and holiday homes - catering for families travelling with children. The establishments below accept children of all ages (from babies and toddlers to teenagers). If none of these establishments take your fancy, please adjust the filter to show results for the specific age group(s) required.
6 Family Friendly Establishments (all ages welcome)
6 establishments in Arniston
9 Taillard Street, Arniston, 7280, Cape Agulhas, Western Cape
Being one of the first original built homes of Arniston, Busch House is a gracious old lady who loves the warmth of big families. The house comfortably sleeps 10 people; there are three and a half bedrooms inside the house and a ... read more
Beach Road, Arniston, Cape Overberg, 7280, Western Cape
The luxurious 4-star Arniston Spa Hotel is internationally known as one of the world's great getaways and includes a relaxation spa. We welcome you with panoramic views of the unspoilt ocean and endless beaches. Blessed with an ... read more

Off the R316, Arniston, 7280, Cape Agulhas, Western Cape
Inhoek Farm is a family run farm situated just outside Arniston offering private, secluded accommodation. The newly built farm house accommodates 12 people in three en-suite bedrooms or the cottages offer comfortable ... read more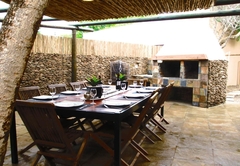 16 Main Road, Arniston, Cape Agulhas, Western Cape
The Arniston self catering cottage is the ultimate in self-catering accommodation in the Western Cape. The open-plan lounge and dining area leading to the braai area is ideal for entertaining family and friends. Centrally ... read more

Arniston, Cape Overberg, Western Cape
Close to the beaches are Arniston Seaside Cottages, a cluster of impressive luxury thatch roof cottages,emphasising the unique personality of Arniston itself. Arniston Seaside Cottages are luxury seaside self-catering thatch roof ... read more
3 Hardick Street, Arniston, 7280, Cape Agulhas, Cape Overberg, Cape Town.
Arniston B&B has a warm friendly home from home atmosphere. You will enjoy the comfort of crispy fresh accommodation with your own private patio where breath taking sunsets and stars meet the eye. Enjoy the fynbos and ... read more
Why Book with SA-Venues.com
Secure payments
Accredited establishments
Deal direct and save