Northern Cape Things To Do
Visit the McGregor Museum (Kimberley)
Categories: Museums / Wheelchair Friendly
Price group: R1 to R100 per person (see other things to do in this price group)
Available in the following region(s): Diamond Fields
Stay Overnight: See Kimberley accommodation, in Northern Cape
Address: 5 Atlas Street, Kimberley, Northern Cape.
Telephone: +27 (0)53 839-2700 or +27 (0)53 839-717
Opening hours: Open from Monday to Saturdays from 09h00 to 17h00; Sundays from 14h00 to 17h00; Public Holiday from 10h00 to 17h00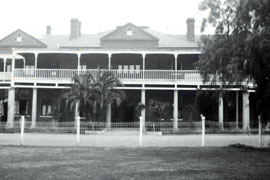 The McGregor Museum was officially founded on the 24th September 1907 when the title deeds were handed over to the Management Committee. Prior to this there had been several calls for the establishment of a Museum in Kimberley but nothing had materialised.

Eventually, Mrs McGregor, the widow of a previous mayor of Kimberley, Alexander McGregor, donated the funds necessary to establish the Museum. The official title was to be the Alexander McGregor Memorial Museum and it has been affectionately known over the last one hundred years as "the McGregor".

The first director of the Museum (from 1908-1947) was Miss Maria Wilman who had studied Geology, Mineralogy and Chemistry at Cambridge University. She was also interested in Botany and Archaeology and published major works on these two subjects.

Since her appointment the Museum has gone from strength to strength under a number of directors and has made important contributions to the ecological and historical knowledge of the Northern Cape.
Why Not Overnight?
Find Accommodation in Kimberley
Located on Solomon Street, The Solomon is a self-catering guest house in Kimberley. Tastefully converted and furnished with high quality fixtures and fittings, The Solomon offers a three-bedroom self-catering house (sleeps two to six) and two self-catering studio flats (sleeps one or two guests in ...
Estralita Guest Rooms offers comfortable, semi self-catering rooms in a quiet suburb of Kimberley. Centrally located in a safe and peaceful neighbourhood which is within driving distance of the city centre, the North Cape Mall and the Big Hole! Secure, shaded parking is available. An English breakfast ...
Related Pages
Travelling to Kimberley
• Kimberley Attractions
• Kimberley Hotels
• Kimberley Accommodation
• Northern Cape Accommodation