Limpopo Things To Do
Tour of Geluksfontein Dairy Goat Farm (Melkrivier)
Categories: Family Entertainment / Miscellaneous / Wheelchair Friendly
Price group: On Request (see other things to do in this price group)
Available in the following region(s): Bushveld / Waterberg
Address: Geluksfontein Dairy Goat Farm, Melkrivier, Waterberg Region, Limpopo
Telephone: +27 (0)14 755-4331 or +27 (0)83 704-4229
Opening hours: Open Mondays to Sundays from 09h00 to 17h00. Best Visiting Hours are from 09h00 to 10:00 and from 15h00 to 17h00. (Daily milk time is at 15h00).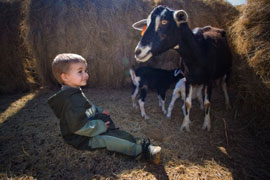 Do a guided Tour around the Geluksfontein Dairy Goat Farm, an authentic Cheese Farm in the Heart of the Waterberg. Geluksfontein dairy goat's comprises a 400 acre dairy goat farm at Melkrivier, a small rural settlement in the Waterberg region of the Limpopo province. It is a 30 minute drive from the country town of Vaalwater and approximately 2½ hours from the capital city of Pretoria. The goat milk cheeses are made in the traditional way, using milk produced by the Swiss-Type goats reared on the farm. Come and experience the milking of our beautiful goats, the cheese making and finally indulge yourselves with the tasting of our healthy cheese at our Goatino Pub & Grill.

Tours around the Geluksfontein Dairy Goat Farm are an interesting experience. Aubrey combines a demonstration of the cheese making process with a cheese tasting on the farm. Mature and semi-mature cheese are available to cheese lovers. If you want to get away for some peace and quiet in the country, enjoy our superb view, whilst having breakfast or a cheese lunch.

Bookings are essential for breakfast and lunch at our own, fully licensed, Goatino Pub & Grill.
Why Not Overnight?
Find Accommodation in Melkrivier
Jobedi Game Lodge is approximately 3 hours drive from Johannesburg & 2½ hours from Pretoria. Jobedi Game Lodge is a 7000ha game farm and offers ...
Jembisa is for those looking for an exceptional, personal African Safari. We take only one booking at a time to provide you with an exclusive holiday ...
Related Pages
Travelling to Melkrivier
• Melkrivier Attractions
• Vaalwater Accommodation
• Waterberg Accommodation