Things To Do in Vanderbijlpark

Emerald Animal World

Animal Sanctuaries Family Entertainment Southern Gauteng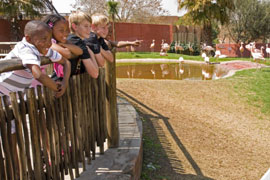 In 2001, the National Zoological Gardens of South Africa established the 203-hectare Emerald Animal World housed at the Emerald Safari Resort and Casino in Vanderbilpark. The facility comprises a 189-hectare game park and a 14-hectare zoo.
The Emerald Animal World facility houses more than 600 animals representing 128 species of mammals, birds, amphibians and reptiles.
Animals that can be viewed there include white rhino, hippos, lions, cheetah, various antelope and reptile species and even bats! All the animals were provided by the National Zoo's two other satellite facilities in Lichtenburg and Mokopane.