Eating Out in Vanderbijlpark

Dine at Breeze

Cafés & Eateries Wheelchair Friendly Southern Gauteng

Where? Emerald Resort & Casino, 777 Frikkie Meyer Boulevard, Vanderbijlpark, Gauteng

When? Tuesday to Thursday from 11h00 to 22h00.
Friday to Saturday from 11h00 to late.
Sunday from 11h00 to 17h00.
Closed on Monday.
Reservations Tuesday to Thursday.
Regret no bookings over weekends.

How? Call +27 (0)16 982-8166

Overnight? Stay at accommodation in Vanderbijlpark, in Gauteng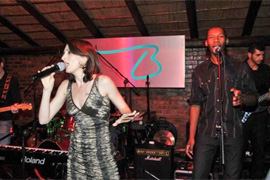 Breeze, the fabulous restaurant at Emerald Resort & Casino offers live entertainment Thursday to Sunday. With an array of delicious meals, live entertainment, and a family friendly environment, Breeze makes for the perfect outing night or day.
Sip on a cocktail, enjoy a cappuccino with friends and enjoy the beautiful setting. If you would like to start your day off in the perfect way, Breeze now offers Breakfast, every Saturday and Sunday morning.