Gauteng Things To Do
Blubird Whole Food Market (Atholl)
Categories: Farm Stalls & Markets / Miscellaneous
Price group: Free to Browse (see other things to do in this price group)
Available in the following region(s): Johannesburg / Sandton
Address: Blubird Shopping Centre, Athol, Oaklands Road, off Corlett Drive, Sandton.
Telephone: +27 (0)83 311-4768
Opening hours: Every Sunday from 09h00 until 14h00.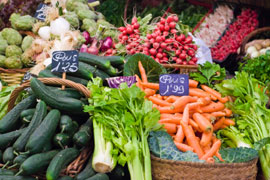 Come for a taste experience - The United Flavours of Nations! Polish patisserie, Serbian snd French pies, Lebanese Fare, Italian pasta and anti pasti, Indian spices and food, biscotti and teas, the cultured coffee bean, chocolatier, Swedish baker, bakers of magnificent bread... and so much more.

Earthworms are available for the kitchen to turn your waste into compost, Growing edible flowers and salads available. Bio detergent for all household duties and environementally friendly. Grow a tree ...
Why Not Overnight?
Find Accommodation in Atholl
Elton Hill Guest Cottage is situated in the quiet leafy suburb of Elton Hill. It is located in a secure, boomed off area. The cottage is close to the ...
Canle is a beautiful Cape Dutch style house built in 1947. Douglas and Caroline welcome guests to two well equipped guest rooms. Canle is close to ...
Related Pages
Travelling to Atholl
• Accommodation in Sandton
• Sandton Guest Houses
• Sandton Bed & Breakfast
• Things to do Sandton