Gauteng Things To Do
Acapilia Laser Clinic and Day Spa (Benoni)
Categories: Health & Beauty
Price group: On Request (see other things to do in this price group)
Available in the following region(s): Johannesburg
Address: 16 Somerset Ave, Western Ext., Benoni, Johannesburg
Telephone: +27 (0)11 421-7729
Opening hours: From 09hoo to 17h00 - by appointment only.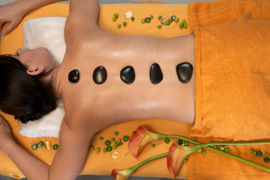 A home away from home - only a few minutes away. Escape into the serene, tranquil world of relaxation and endless pampering. This world can only belong to Acapilia Laser Clinic and Day Spa, it is situated in the quiet suburb only minutes away from the buzz of Benoni's CBD, where you could be working. The Spa is conveniently located in an area where our working clients can come in for treatments in between their work schedule.

On arrival to the Spa, our therapists will not only discuss with you in detail the treatment procedures, but they will also treat you to the best hospitality we have to offer. All your questions will be answered before treatments, as this allows us to give you the best professional care while you relax and rejuvenate your mind, body and soul.

While specialising in 'Science of the Face and Body' using world class procedures without surgery, our clients have a variety of treatments to choose from. These range from Laser Facials, Sunbed, Body Wrap treatments, Body Massages, Slimming, Hand and Foot therapy, Non-Surgical Facial treatments and many more.

Our facial treatments which take no longer than an hour, are recommended on a regular basis as they boost your confidence, enhance your looks and can add value to your anti-ageing process in the long term. Treatments for our facials range from soft light lasers for all ages, skin peeling, Collagen facials which plump outlines resulting in you looking ten years younger. These treatments become fully effective when used in conjunction with our home skin care range for a period of time.
Why Not Overnight?
Find Accommodation in Benoni
Summer Garden is a luxurious 4 star Guest House surrounded by a dazzling tropical garden where you can spend your time relaxing. We pride ourselves ...
Situated a little over a stone's throw and only 10km from OR Tambo International Airport and out of the airport noise zone you will find Ange Bed & ...
Related Pages
Travelling to Benoni