Free State Things To Do
The Cheetah Experience (Bloemfontein)
Categories: Animal Sanctuaries / Family Entertainment
Price group: R1 to R100 per person (see other things to do in this price group)
Available in the following region(s): Motheo Region
Stay Overnight: See Bloemfontein accommodation, in Free State
Address: 1 Maluti Avenue, Bainsvlei, Bloemfontein, Free State
Telephone: +27 (0)72 0200-0570
Opening hours: Please enquire.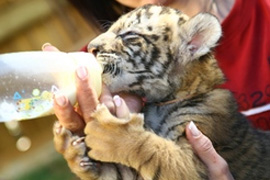 It is a once in a lifetime experience to be able to actually touch and stroke a wild animal - especially a cheetah! Add the wonderful sound of it purring to this and you will remember it forever. We have various animals staying with us from time to time. So, in addition to our cheetahs, you may also be able to touch a lion cub, tiger cub, jaguar cub, leopard cub, wolf and a number of others. Keeping in mind that you always have to respect the animals, as they are still wild animals by nature, you can come and enjoy this awesome experience with us.

About The Cheetah Experience: Riana van Nieuwenhuizen has been involved with Friends of the Zoo since 1996, and bought her first cheetah, Fiela, in 2006, after realizing the problems cheetahs face and that they're heading towards extinction. Riana then conceptualized promoting her tame cheetah to increase awareness and for education.

In November 2007 she launched the project with a hectare of land provided by Emoya Estate located in Bloemfontein, South Africa. Visitors on game drives at Emoya have the opportunity to meet Fiela and learn more about this endangered species. The Fiela Funds Cheetah Breeding Project is a South African registered Non Profit organization, primarily concerned with education. The purpose of the Fiela Funds is to ensure the long-term survival of the cheetah and their ecosystem.
Why Not Overnight?
Find Accommodation in Bloemfontein
African Footprints Lodge is situated directly opposite the University of the Free State, the Universitas Hospital and in the same street than all major sport stadiums (Vodacom Park, etc). We offer comfortable, stylish, African decorated en-suite bedrooms. All our rooms have private entrances to the garden ...
Overnight in a quiet peaceful valley on the northern slope of Naval Hill. Double or twin rooms with private bathroom and own entrance or a cosy garden room with 2 or 3 single beds and en-suite bathroom ...