Events in Dullstroom

Tonteldoos Country Festival
Please Note
This event has already taken place. All details published in good faith, as supplied by the organisers. Please check our current and upcoming events list for events to attend.
The little hamlet of Tonteldoos will again be hosting its very own Country Festival this year only this time it will be for three days.
Over the past years donkeys have become a major attraction of the annual Tonteldoos Country Festival. The route for the donkey cart rides is on the festival grounds and it is a safe and very popular and enjoyable activity for young and old. The drivers or owners stand a chance to win a cash prize for the donkeys and cart in best condition.
Birds of Prey in Action (eagles and falcons), horse rides and a lamb's pen are other fun events to enjoy animals. The Birds of Prey in Action is a breathtaking display to behold.
All day live entertainment by various artists, boere sport, and many other fun-events will contribute to a festive experience not to be missed.
The Tonteldoos Country Festival has constantly grown in stature and has become somewhat legendary since its establishment in 1996. For many people who attended the earlier festivals, it has become an annual family outing to enjoy a charming country experience in the remote yet easily assessable Tonteldoos. (Afrikaans for tinderbox)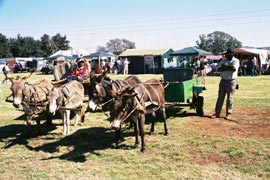 It is scheduled to again take place over Easter weekend. The long Easter Weekend is the ideal opportunity for metro folk to escape from the hustle and bustle and to explore the area, learn about its interesting history and to relax and enjoy the peace and quiet amidst the beauty of nature. The many guest houses and lodges with trout dams in the vicinity make Easter a fly-fishing break away par excellence. The Tonteldoos Country Festival ads the spice and colour to nicely round of an unforgettable Easter Weekend.
The many food and delicacy stalls, tea garden and beer tent will see to it that every one can feast on whatever ones fancy might be, from the traditional pancakes, braai vleis, chipstix, burgers, hotdogs and potjiekos to the more extraordinary.
The festival is also well known for its peach mampoer, which originated in Tonteldoos, apparently named after one Chieftain Mampure, who used it, surely amongst other uses, as a effective means of bribery. The readily available peach mampoer will undoubtedly again be in demand at the next festival. Other local produce like dried peaches, jams and preserved fruits will also be on sale at various stalls.
The Tonteldoos Country Festival derive from the earlier Peach Festival which took place every year in February, peach harvest time but also in the rainy season. It often had to be cancelled due to heavy rainfalls or it simply rained out. Hence the community's decision to postpone the festival to Easter. The shift of date caused the festival loose its connotation to the peach harvest which Tonteldoos is well known for, and it was thus renamed to Tonteldoos Country Festival.
Tonteldoos is situated some 20km North-East of Dullstroom. Directions to the village will be posted in Dullstroom and all the major routes from Lydenburg, Steelpoort, Groblersdag and Middelburg, before the festival.
Campers are welcome.