Gauteng Events
The Rand Show (Johannesburg Central)
When: Friday, 18 April 2014 to Monday, 28 April 2014
Where: Johannesburg
Categories: Annual Festivals / Concerts & Shows / Entertainment / Exhibitions & Conferences
Stay overnight: See accommodation in Johannesburg Central, in Gauteng
Please Note: This event has already taken place. Please check our Current and Upcoming Events List for current events.

The Rand Show plans to deliver a Great Day Out, every day, during its 10 day period and deliver non-stop entertainment throughout. This year we will be taking the entertainment to the audience, deliver continual activities on stage and provide an unforgettable experience to entice and enthral.

There will be a number of events throughout the Rand Show. Events in previous years consisted of an arts festival, outdoor film festival, rock and pop music festival, Afrikaans music festival, an all day carnival and much much more.
Please note that event and festival details can change. All event information is published in good faith as supplied by the organisers. Please check with the organisers that the event is happening before making your travel arrangements.
Stay a Day or Two?
Find Accommodation in Johannesburg Central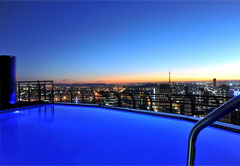 Since the world discovered Johannesburg, discerning travellers from around the globe have made Protea Hotel Parktonian their venue of preference. ...
The AstroTech Conference Centre in Parktown, Johannesburg is in a gracious mansion in one of the most historic and beautiful areas of South Africa. ...
Related Pages
Johannesburg Central Tourism
• Johannesburg Attractions
• Johannesburg Hotels
• Johannesburg Accommodation
• Things to do in Johannesburg

Submit an Event in Gauteng
- know of an upcoming event?
Organisers are welcome to submit their event info (there is no cost to list your event).