Free State Events
Fauresmith Endurance Ride (Fauresmith)
When: Tuesday, 01 July 2014 to Thursday, 03 July 2014
Where: Fauresmith, Xhariep
Categories: Outdoor Events / Sporting Events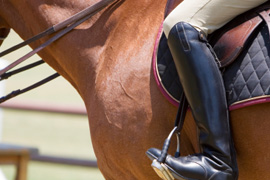 Please Note: This event has already taken place. Please check our Current and Upcoming Events List for current events.

If you are an experienced rider then the Fauresmith Endurance Ride will be calling your name. It takes place in Fauresmith, to get there you need to travel from Bloemfontein take R706 then take the R704 and travel 108km to Jagersfontein, Follow signs from Jagersfontein to Fauresmith and travel additional 11km.

Event History:
Thanks to an controversial argument in 1964 debating the endurance capability of various horse breeds in a local Afrikaans magazine, namely the 'Landblou Weekblad', a live test of equestrian stamina was launched across the local landscape to settle the issue. This annual national equestrian endurance race mounts rider on steed to conquer 205km of tough terrain over a gruelling journey spanning over three consecutive days and nights. Vets check and monitor all horses' muscles and heart-rates at intervals of 25km allowing 20 minute rest periods; overstraining of horses results in immediate disqualification. To settle the debate that sparked this event the Arabian breed emerged victorious.

Initially only 17 riders completed the race which now has over 300 entries annually. Selected for its ideal endurance riding climate, Fauresmith International Endurance Ride is rated as one of the most challenging endurance rides in the world. Inspiring off-road day vistas merge with freezing night temperatures where racers tend to conduct hourly checks on their horses under starlit sky. Take to the hills on your hide and test your own capabilities on hoof in an atmosphere of camaraderie and sportsmanship.

Only experienced riders qualify for an experience of a lifetime rewarded with self-satisfaction and a week of broad stanced cowboy style walking.

More Information? Contact the Endurance Ride Association of South Africa on +27 (0)51 448-2428
Please note that event and festival details can change. All event information is published in good faith as supplied by the organisers. Please check with the organisers that the event is happening before making your travel arrangements.

Submit an Event in Free State
- know of an upcoming event?
Organisers are welcome to submit their event info (there is no cost to list your event).