Free State Events
Bloemfontein Show (Bloemfontein)
When: Thursday, 24 April 2014 to Saturday, 03 May 2014
Where: Bloemfontein
Categories: Agricultural Shows / Annual Festivals / Entertainment
Stay overnight: See accommodation in Bloemfontein, in Free State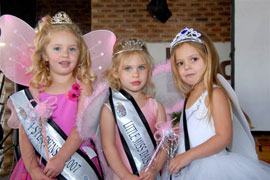 Bloemfontein and the Bloem show annually hosts the largest agricultural and entertainment show in South Africa and is one of the three largest shows in South Africa. Bloem Show is a combination show and we believe this to be the success of our survival. On one side we have the commerce and industry section with approximately 450 exhibitions, 25 foodstalls, exciting amusement park and probably one of the best entertainment programmes of all shows. It is this section, together with the income generated from entrance fees, which is the financial injection and ensures that expenses can be paid, as well as maintenance of the facilities can be kept.

The second part of the show is the agricultural, cultural and service side. At present, Bloem Show presents the largest open air Saddle Horse Championship in the world with ±1000 saddle horses taking part in the national championship, as well as national championships for Arab Horses and Welsh Ponies, provincial Tentpegging championships and championships for Miniature Horses.

Exhibitors are a diversion of all races and cultures and do not only include SA citizens, but also exhibitors from Namibia, Swaziland, Egypt, Pakistan, Australia and Kashmir.

The Art and Home Industry section includes entries of handmade products such as porcelain dolls, embroidery, art, flowers etc. and all participants.

With a multitude of events taking place, approximately 160 000 visitors were drawn to the show from all over South Africa as well as various parts of the world.

Our intention is, that through involving the entire community, we are able to invite harmony and enjoyment for family and friends – an opportunity to relax and enjoy yourself!

Venue: Showgrounds, Curie Avenue, Bloemfontein
Contact: Elmarie Prinsloo on +27 (0)51 448-9894 / 5 / 6

Stay a Day or Two?
Find Accommodation in Bloemfontein
Ruresta embodies an 'indigenous' concept that combines the character and the spirit of the Free State. A magnificently decorated en-suite ...
Overnight in a quiet peaceful valley on the northern slope of Naval Hill. Double or twin rooms with private bathroom and own entrance or a cosy ...
Related Pages
Bloemfontein Tourism

Submit an Event in Free State
- know of an upcoming event?
Organisers are welcome to submit their event info (there is no cost to list your event).