South Africa Travel
The Eastern Cape Province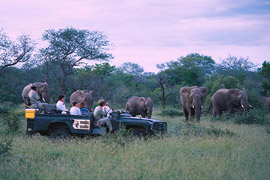 Eastern Cape Travel Guide / Whether you're in the mood for an informal seaside escape, an encounter with the "Big Five" on safari, or a choice of scintillating city diversions, you're sure to find what you're looking for in the Eastern Cape. Scenic diversity is one of the most striking characteristics of the region, ranging from the lush, evergreen Tsitsikamma Forest to the rugged Baviaanskloof Wilderness Area, the southern slopes of the Drakensberg and the arid Great Karoo. Alternating between sweeping sand, river mouths, rocks and covers, the coastline is a paradise for water sports enthusiasts. Among them, surfers ride the perfect waves, anglers reel in king-size catches, and board sailors revel in the challenge of the wind. Sunshine all year round, fine leisure resorts and splendid facilities ensure that the great outdoors is always in style.

When pleasures of a more sophisticated kind appeal, you'll find plenty to entertain you in Port Elizabeth and East London. Both are ideal for family holidays, large enough to offer all the amenities of a city, yet small enough to be genuinely welcoming and friendly. They also provide convenient access to unspoiled areas of exceptional natural beauty.

Introduction to Eastern Cape
Port Elizabeth (capital of the Eastern Cape)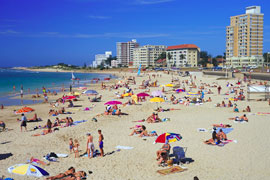 Superbly set on the shores of Algoa Bay, "The Friendly City" is the fifth biggest city in South Africa and the largest on the coast between
Cape Town
and
Durban
. A popular leisure resort, the
City of Port Elizabeth
beckons with an attractive atmosphere of year-round holiday fun against a backdrop of urban activity. Its warm, welcoming nature is matched by a climate which boasts more sunshine than any other coastal town in the country. Algoa Bay encourages all forms of water sport; in, on and under the sea, where there is a colourful diving region. The beaches are always alive with sun worshippers, and conditions are excellent for surfing, sailing, diving and angling. Close by, the Swartkops River offers endless opportunities for enjoyment. In addition to sport, land-based leisure options encompass a wide range.
Port Elizabeth has beautiful parks, botanical gardens and nature reserves with an abundance of bird life. Many inland and coastal walking trails can be explored in the area. In Port Elizabeth, the 1820 Settlers were introduced to their new land, and there they built some of the graceful period homes that still enhance the city's landscape. Since then, the tiny settlement has grown into a busy commercial, industrial and educational city with attractive shops, parks, theatres, museums and restaurants. After exploring the city of Port Elizabeth, a day trip can be made to the beautiful
Tsitsikamma National Park
.
Addo Elephant National Park
supports about 200 elephants in addition to Cape buffalo, black rhino, kudu and over 180
South African bird species
. It's fascinating to watch the
elephants
emerging from a dense tangle of creepers and trees, guiding their young towards to water holes. From historical and architectural points of view,
Grahamstown
and
Graaff Reinet
should not be missed.
Introduction to Eastern Cape
East London, Eastern Cape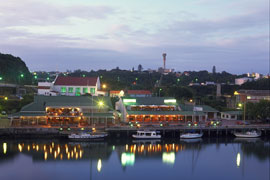 South Africa's only river port city is set on the broad Buffalo River and one of the most attractive stretches of the Eastern Cape seaboard. The
City of East London
offers sweeping white beaches which extend for miles; unpolluted, uncrowded, unspoiled. Swimming, sailing, water-skiing, boardsailing and boating are enjoyed all year round, while the river mouths, lagoons and gullies provide a paradise for fishermen.
East London
is the ideal base from which to explore the north-eastern mountains and the Eastern Cape's
Wild Coast
. The city has bowling greens, tennis and squash courts and golf clubs with grand views of the Indian Ocean. The city's ancestry is evident. Against a typically African backdrop, strong links with England and traces of the German lineage are found. Several well-preserved examples of 19th-century architecture enhance the charm of the city. Traffic snarls and overcrowded city streets are the exception rather than the rule. Courtesy friendliness and good old-fashioned hospitality will enhance your holiday pleasure.
When the sun goes down, there are theatres, cinemas and a selection of restaurants to pamper the discerning palate. If it's the one-armed bandits you crave, roulette, black jack and the chance of making a mint, Bisho's casino is practically on the doorstep.
Introduction to Eastern Cape
Eastern Cape Western Region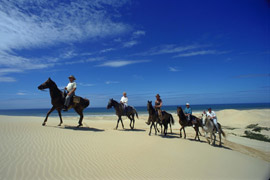 One of the liveliest coastlines in the world stretches from
Port Alfred
to the Tsitsikamma National Park; a place of awe-inspiring beauty and grandeur. On the outskirts of the forest, beauty of a gentler kind is found in the Langkloof, renowned for its orchards and a rich indigenous flora.
In the hinterland, the
Karoo Heartland
epitomises the essence of South Africa. Vast open spaces; sparse veld bushes and distant brooding mountains. Sheep and game farming are carried out on a grand scale in the region, where millions of years ago, dinosaurs roamed the plains, leaving in their wake fossils which attract the attention of paleontologists from all over the world. The tranquil landscape of
Frontier Country
, studded with historical towns and villages, invites a close scrutiny of its intriguing background of conflict, courage, despair and success. This is where the Xhosa, Dutch and British had their first encounters, leading at first to frequent clashes and later to a cultural learning curve and mutual acceptance. Cape Dutch homes, ornate Victorian buildings and the lime-washed homesteads of the rural Xhosa provide tangible symbols of three vastly different cultures coming together in peaceful coexistence.
Introduction to Eastern Cape
Eastern Cape Eastern Region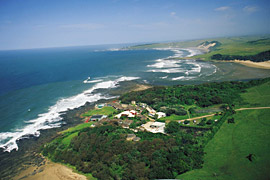 From East London, the road parallel to the Wild Coast leads through a region of unspoilt grandeur; thick indigenous forests, hilly grasslands and sheer cliffs falling to white, unspoilt beaches. The Wild Coast is one of South Africa's most exciting and unexploited areas, with a special appeal for fishermen all year round.
Crowned cranes are frequently seen along the coast. The Xhosa people of the district believe that if one of these birds is killed, death will afflict the hunter's family. An easy drive leads to the great sweep of the
Amatola Mountains
, embellished by stately yellowwood and white stinkwood trees. Scattered about in the foothills and beyond, Xhosa homesteads, circular and thatched, are often grouped around a cattle kraal, usually situated on the ridge of a hill, leaving the fertile valleys free for cultivation.
The
Northern Ukhahlamba
region, dominated by the southern Drakensberg, is characterised by mountains, sandstone cliffs, green valleys, crystal-clear streams and crisp, clean air. The wildwater fly-fishing is the finest in the country; an unbeatable combination of enormous trout and scenic surroundings. Charming country hotels, hot springs, Bushman paintings, hiking trails and enchanting little towns await your arrival and exciting discoveries are almost guaranteed.
Additional Reading:
For more information you might find this article useful:
Discovering the Eastern Cape
, or...
Read our Blog articles under Eastern Cape at
Eastern Cape Blog
.
Find Accommodation:
Find accommodation for your holiday:
Eastern Cape Accommodation
(by Town).
Find accommodation by Map:
Eastern Cape search by map
(search by Map).
Find hotels for your holiday:
Eastern Cape Hotels
(find hotels by Town).
Did You Know?
The Eastern Cape is an exhilarating experience for visitors from the bustling port cities of Port Elizabeth and East London with the blue flag beaches of the Eastern Cape such as Kings Beach, to the rural tranquility of the Transkei. Despite the cosmopolitan feeling in some of the urban centres, there is always an element of the untamed, just below the surface.
Combine your wildlife safari with a relaxing, revitalising visit to a health spa ... and enjoy Africa at its finest. View our exclusive collection of spas, wellness centres and health resorts in Eastern Cape.