Western Cape Tourist Attractions
Spookdraai Hiking Trail, Cape Agulhas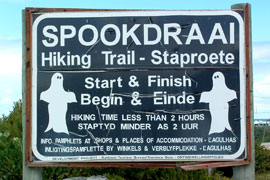 There is no secret behind the name of this hiking trail at Cape Agulhas.

There have been so many shipwrecks along this coastline that even if you do not believe in ghosts (spook) you would have to at least acknowledge the possibility that a fair number of discontented souls may well continue to wander up and down this coastline.

There are two stories in particular that you might hear told at L'Agulhas – the young woman who survived a shipwreck only to make it up to one of the caves where she died, and the man who was rather unpleasantly decapitated in an accident in the area, whose ghost too is said to roam. The woman who lived in the one of the limestone caves in the area is said to have the voice of an angel and beautiful hands.

Spookdraai is actually the name given to the entrance of the bay at Cape Agulhas. And the Spookdraai hiking trail takes in the historical landmarks and natural phenomenons of the area.

The Spookdraai hike begins and ends in the same spot and takes roughly two hours to complete, depending on how fast you want to walk. It also includes incredible fynbos, the vleis and bird life of the area. You can pick up a map from the Cape Aghulhas Tourist Bureau at the foot of the Cape Agulhas lighthouse.

The hike is well signposted from the entrance to L'Agulhas and fairly popular. There are roughly 28 different markers along the route to indicate your way, but the booklet adds to your walk tremendously as it gives al ittle description for each of the viewing points.
Related Links
Other Attractions / Activities nearby

Lying in what is known as the Agulhas Plain at the southernmost tip of Africa is the Agulhas National Park, just 45 kilometres from the popular village of Gansbaai. This might be the meeting place of the Atlantic and Indian Oceans, but the Agulhas National park's focus is on some of the most splendid ... more information
Formerly known as Waenhuiskrans until a ship by the name of Arniston was wrecked here, the village is a much sought after holiday residence because of its sea views and stands on a hill overlooking the harbour, approximately 190 kilometres from Cape Town and close enough to Cape Agulhas to claim a share as ... more information
Spookdraai Hiking Trail
Accommodation nearby
For accommodation nearby see:
• Arniston accommodation • Baardskeerdersbos accommodation • Bredasdorp accommodation
• Elim accommodation • L'Agulhas accommodation • Malgas accommodation
• Napier accommodation • Struisbaai accommodation

Or to see all accommodation in this region at once, visit Cape Agulhas accommodation.