Gauteng Destinations
Springs, East Rand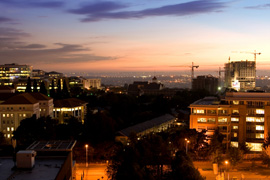 Once you've booked your accommodation in Springs explore our pages for info on attractions and what to do in Springs.

The city of Springs lies on the outskirts and to the east of Johannesburg, considered by many as a 'suburb' of the city of gold - 50 kilometres is nothing when driving across Jo'burg - where it lies nestled in amongst the compatriot areas of Benoni, Boksburg and Brakpan, known collectively as the East Rand. Much of Springs' allure lies in its history - steeped in gold - and the fact that a number of famous South Africans - Nadine Gordimer, James Phillips and Penny Heyns - were either born or raised in the city.

Springs gets its name, unsurprisingly, from a large number of natural springs (points from where groundwater flows out of the ground) in the area, although these were not the main reason people originally settled here. Springs started out as a farm, shortly after which coal was discovered around here and it took little time before a railway line emerged to carry coal from the coalfields to the gold mines of the Witwatersrand (Afrikaans for the 'ridge of white waters').

Whilst the coal mines soon closed around Springs as coal was discovered in Witbank, the discovery of gold followed fairly rapidly. A village emerged as early as 1904 and by the late 1930s there were eight gold mines in and around the village, making Springs and its surrounds the largest single gold-producing area in the world.

Springs today is known for its manufacturing and engineering industries and is one of the industrial centres of the country, hence its rather drab image - Springs is not known for its devastatingly exciting night life. But those who live here enjoy the suburban, town-type feel to the city and the easy access to, yet distance from, Johannesburg.
Get the Scoop
Springs Reviews
Related Links
Featured Attractions in (or near) Springs

Boksburg Lake
Boksburg Lake is a spectacular lake which is over 150,000 square metres and surrounded by lawns, trees, and terraces. This is a popular boating, fishing, watersport and hiking destination for many. The scenery here is lovely and many families enjoy blissful and entertaining days and weekends here.

Just outside Johannesburg in Boksburg, the East Rand Flea Market lies right next to the East Rand Mall, and as a result, is open just about all week, except for Mondays, to sell its wares to shoppers, who delight in the array of goods that range from African artwork, to any number of handcrafted goods, a budding home ... more information
East Rand Mall
East Rand Mall is situated 7km away from OR Tambo Airport. The Mall includes all of South Africa's Major Chain Stores and a host of smaller specialised stores. Extensive entertainment facilities, which include a Games Arcade, Restaurants, Coffee shops, a nine theatre Cinema Centre and an exciting Food and Entertainment Mall.
Related Links
Things To Do in Springs

Where: Brakpan
How much (per person): Free to browse
Everyone loves a bit of retail therapy, even when you're visiting the entertainment capital of Carnival City. Carnival City Mall is a collec ... more information

Where: Springs
How much (per person): R201 to R500
Paragliding Adventures runs a service from the Dunnottar Winch park where they offer tandem paragliding flights and powered paragliding cour ... more information
Related Links
On Holiday in Springs
• Springs Accommodation
• Springs Guest Houses
• East Rand Accommodation
• Johannesburg Accommodation
• Gauteng Accommodation