Eastern Cape Attractions
Tsitsikamma, Eastern Cape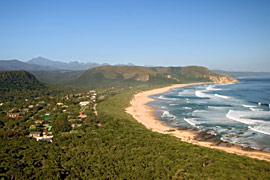 Once you've booked your hotel or Tsitsikamma accommodation explore our destination pages below for info on attractions and what to do in the Tsitsikamma Region.

The incredibly beautiful area of land that lies between the Tsitsikamma Mountains and the sea stretches west to the Bloukrans River and east to Eerste River, and is named after the San word that means 'place of abundant water'. The area is like a treasure trove; a crypt overflowing with protected indigenous forest that bears ancient trees like yellowwood, hard pear, stinkwood, and ironwood; fynbos covered landscape and the appearance of entrancing animals and birds, like the shy Knysna loerie.

Described as the 'garden of the garden route', the Tsitsikamma actually deserves a more vivid description to encapsulate the beauty of the place. Far from being a garden, the Tsitsikamma is a place where magic and the ancient have merged to create a fairytale.

The Tsitsikamma forest is a huge protected conservation area that supports an incredibly diverse ecosystem. This isn't any forest. It is eons old and trees tower above one as one walks in the immediate cool and shade their protective cover creates; the floor of the forest an intricate trail of ferns, moss and fragile fungi.

But it is the waters contained in rivers that have carved their way through mountains to create spectacular gorges that have earned the area its unusual name. From these trickle streams that wend their way through vegetation, complete with crystal clear pools that glisten over river pebbles. The deep gorges widen as the rivers make their way to the sea through a series of kloofs and waterfalls. Storms River mouth is one of the most magnificent of these, complete with suspension bridge that spans the mouth and offers visitors incredible views.

Additional Reading:
For more info about Tsitsikamma see our articles on the SA Travel News Blog:
• Hiking Trails in the Tsitsikamma
• Things to Do in the Tsitsikamma Forest
• Things for Nature Lovers to Do in the Tsitsikamma
• Ziplining over the Tsitsikamma Waterfalls
• Keeping busy in the Tsitsikamma
• Blackwater tubing on Storms River
Tsitsikamma
Destinations / Town & Suburbs of Tsitsikamma
Tsitsikamma
Featured and "Must See" Attractions in Tsitsikamma
Tsitsikamma
Featured Things To Do in Tsitsikamma
Tsitsikamma
Holiday Accommodation in Tsitsikamma
For accommodation in Tsitsikamma see:
• Eersterivier • Joubertina • Kareedouw • Natures Valley • Storms River

Or to see all accommodation in this region at once, visit Tsitsikamma.

Did you know?
Whether you're in the mood for an informal seaside escape, an encounter with the "Big Five" on safari, or a choice of scintillating city diversions, you're sure to find what you're looking for in the Eastern Cape.