Game Reserves in South Africa
Northern Cape Game Reserves
The Northern Cape is a large, dry region of fluctuating temperatures and varying topographies. As the most arid part of South Africa, the Northern Cape offers the visitor a very unique experience of San rock art, diamond diggings and large national parks and nature reserves including Africa's first formally declared trans-border conservation area, the Kgalagadi Transfrontier Park.

Northern Cape Game Reserve Map
Click on the National Park, Nature or Game Reserve on the map (or use the links below) to view additional information about the individual reserves and for listings of all Game Lodges listed in the relevant area.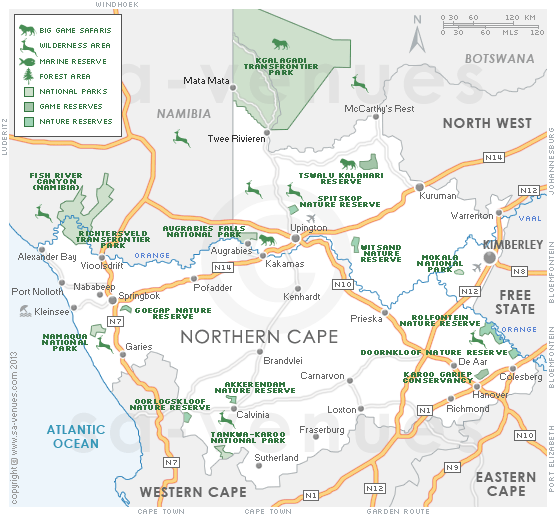 Northern Cape Tours
Experience a unique Northern Cape Tour / The Nothern Cape has a colourful history and a variety of cultural tourist attractions and is particularly well known for its incredible annual floral display that takes place in Namaqualand. To witness this spectacular display consider a Northern Cape Package Tour.
game and nature reserves in the northern cape
Combine your wildlife safari with a relaxing, revitalising visit to a health spa ... and enjoy Africa at its finest. View our exclusive collection of spas, wellness centres and Northern Cape health resorts.