Things To Do in Edenvale

Hunyani Snake City

Where? Hunyani Snake City, 17 Voortrekker Ave, Edenvale, Johannesburg, Gauteng

When? Monday to Friday from 09h00 to 18h00.
Saturdays from 09h00 to 17h00.

How? Call +27 (0)11 453-3257 or +27 (0)84 916-4737

How much? Falls into price group R1 to R100 per person. Confirm with the provider.

Overnight? Stay at accommodation in Edenvale, in Gauteng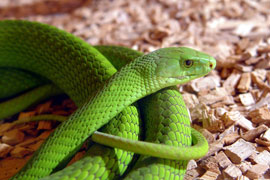 Hunyani Snake City, short for Hunyani Reptile Educational Breeding Centre, invites you to view presentations and learn about the conservation of South African reptiles. Included in the deadly-dozen are eyeball cobras, mambas, king snakes, anacondas, rattle snakes, pythons and crocodiles.
Hunyani Snake City is open weekly from Monday to Friday, 9am to 6pm and Saturdays from 9am to 5pm, entertaining with live snake shows at 11am, 3pm and 5pm daily. Donít miss out!