Things To Do in Kroonstad

Hiking in the Zoutspruit Game Camp

Hiking Trails Northern Free State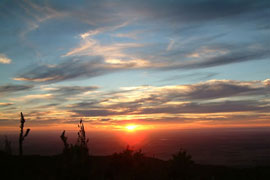 We no longer recommend this trail.
The Zoutspruit game camp may be viewed either by vehicle or by hiking through the camp. Viewing the game camp by vehicle will only introduce visitors to the most prominent species. Hiking though offers a unique eco-tourism experience.
Birds, plants, insects, reptiles and small mammals can be observed at close range when hiking. All the senses experience the atmosphere of the veld and for many urban dwellers it is a unique experience to be the only human beings for as far as they can see. The Zoutspruit game camp offers a fascinating glimpse of what this area must have looked like only a two centuries ago.
Please Note
Business details can change. All information is published in good faith as supplied by the providers. Please check with the provider that the activity/business is still offered as described above, before making any travel plans.