Things To Do in Morgans Bay

Trail Riding Holidays

Horse Riding Sight Seeing Sports & Leisure Wild Coast

Where? Cher-a-Don horse farm, Morgan Bay, Wild Coast, Eastern Cape.

When? Booking is essential

How? Call +27 (0)43 841-1525

How much? Price on request

Overnight? Stay at accommodation in Morgans Bay, in Eastern Cape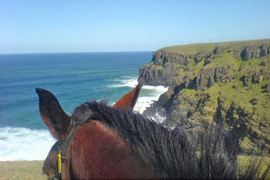 Join Mkulu Kei horse trek for a trail riding vacation on the Wild Coast of South Africa, horse trekking safaris that suits your available travel plans, horse riding experience and budget. From the back of a quality trail horse suitable for your riding ability, ride on a beach and see nature at its best on one of our horse riding safari holidays.
This all-inclusive equestrian trail is through awesome horse riding country, long golden sand beaches on a pristine coastline, hidden valley trails, rocky and sandy isolated bays. Stunning ocean views on the horizon; rolling hills and indigenous forests, under your horse's feet; miles of beach sand. Hours of cross-country riding will take you through Xhosa rural villages, river valleys, and past waterfalls; see nature, birds, game animals, dolphins and whales in the wild.
Mkulu Kei horse trails for your horse riding holiday in South Africa. The best riding horse holidays, an eco tourism horse riding adventure on the Wild Coast.