Restaurants in Willowmore
Restaurants: Cafés & Coffee Shops
Showing 1 of 1 restaurant in this category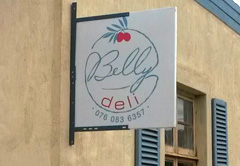 Where? Willowmore
Belly Deli is a quirky little retreat in the heart of the Karoo Heartland. Willowmore, the deli's home town, is a small hub, but has earned its spot on the map for its mohair production. This is in the heart ...
Filter restaurants
in Willowmore, Eastern Cape
©Unauthorised use of the
photos is strictly prohibited.