Restaurants in Patensie
Restaurants: Bistros & Pubs
Showing 1 of 1 restaurant in this category
Where? Patensie
On the premises of the popular Ripple Hill Hotel is a cosy 30 seater restaurant with additional seating on the stoep and in the bar or braai area under the massive palm tree. The menu offers an array of ...
Restaurants: Cafés & Coffee Shops
Showing 1 of 1 restaurant in this category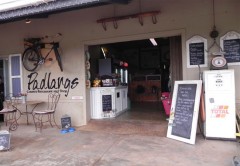 Where? Patensie
Padlangs is a fully licensed restaurant in the heart of the Kouga Mountain Range and surrounding orchards. It offers a cosy indoor venue that reflects traditional French elegance, as well as an outdoor spot ...
Filter restaurants
in Patensie, Eastern Cape
©Unauthorised use of the
photos is strictly prohibited.