Get Listed on SA-Venues.com
Advertisement and Listings Explained
Please Note
For the protection of all advertisers on the SA-Venues.com sites we limit the number of advertisers in each area so waiting lists sometimes apply. We cannot guarantee that we will accept all advertising requests. We require a completed application form in order to assess whether we are able to add your property or if a waiting list applies.
Your Advertisement on SA-Venues.com includes the following:
01.
A 7 page mini-website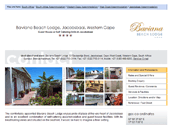 A mini-website including images of your service or establishment, text, highlights and your full contact details. This includes a rates page, a booking form, a guest reviews page, a map / directions page and a service & facilities list.

For establishments / services that do not yet have a web site, this is a great start for establishing a presence on the Internet / World Wide Web.

We will supply you with a unique URL (web page address) which you can use for printing on brochures, on business cards etc.

View samples:
• Advertisement sample 1 (description)
• Advertisement sample 2 (rates and specials)
• Advertisement sample 3 (booking form)
• Advertisement sample 4 (guest reviews)
02.
Listings of your venue / service on relevant search results pages
Your establishment / service is listed under all relevant categories throughout the site. Each listing has an image, summarised description and links that allow the site visitor to view your mini-website. All listing pages are shown in random order. Each time the page is viewed, the order is different, to make it fair to all advertisers. An exception is the Search by Map listing page which are alphabetised.

View samples:
• Listings sample 1 (accommodation)
• Listings sample 2 (tour operator)
• Listings sample 3 (wedding service provider)
03.
Search by Map (Accommodation & Venues)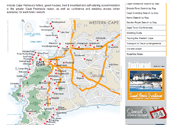 A completely separate section, 'Quick Search by Map' - All venues are listed here in the area/town/suburb in which they are situated. This search method is particularly useful for foreigners who are not familiar with our suburb names, this search facility offers the visitor the ability to search in suburbs surrounding well known areas.

View samples:
• Top Level Map (Western Cape)
• Second Level Map (Cape Peninsula)
• Suburb Result Page (e.g. Constantia)
04.
Wedding & Conference Venues
05.
Special Category Accommodation
Accommodation on the SA-Venues.com website has been grouped according to specific requirements, to help the site visitors find what they looking for that much faster. Your Establishment will automatically be listed under any categories that apply.

Categories include:
• pet friendly accommodation
• wheelchair / disabled friendly
• guest farms / farm stay
• fishing lodges
• golf course lodges
• game reserves and lodges
• health resorts
• caravan parks and camping sites
• backpackers accommodation
• birder-friendly (must be registered with Birdlife South Africa)
• backpackers accommodation

View samples:
• KwaZulu Natal Fishing Lodges
• Western Cape Health Spas
• Eastern Cape Camping
• Limpopo Birder Friendly
06.
Specials and Last Minute Offers
Take advantage and announce your special offers for the world to see! Advertise your special offers or off season rates on the 'special offers' pages (high traffic pages) And get exposure on the SA-Venues.com Home Page under 'LastMinute and Special Offers'. (This is done on a rotational basis).

See Special Accommodation Offers
07.
All the above on the German Suedafrika-Reise.net Site
SA-Venues.com is the largest, most visited, South Africa Travel site available in both English and German Languages. Included in the annual fee is full inclusion of your listings on the popular German South African Travel site, Südafrika Reise. If you have German text available, there is a small extra charge to add a german page.

See Südafrika Reise


First I want to thank you and your team. Petit Plaisir enjoys excellent coverage by SA-Venues, my enquiries sky-rocketed!
Thank you also for all the lovely guests that you send me all the time, you're just the best!
I have found SA-Venues.com a highly successful site for Whale Rock to be on - long may it continue!! Kind regards.
We have been advertising with you for some years now, and find your site quite the best as regards enquiriies received.
Great job you guys are doing ... Still a fantastic site, with loads of enquiries!
We have been absolutely delighted with your website - what a wonderful service.
I am so pleased to be associated with SA Venues - not only your website but your excellent support and assistance.
Thank you so much for your website, we are getting wonderful response.
Just to give you feedback, I have been extremely happy with this advert. I have an endless supply of enquiries for our chalet. I have another website and must tell you that the sa-venues.com site is the one that generates 99% of our business. So I would sincerely like to say "Thank you".
Thank you for a great year. Your website is informative and easy to use and have resulted in wonderful people visiting Amathunzi. Looking forward to the next year.
I will definitely be renewing my listing with SA-Venues.com. You've served me well over the many years I've been working with you – thanks!
We are currently advertising on SA-venues and again want to thank SA-Venues' team for the best accommodation website in SA!.