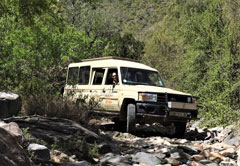 ADDO ELEPHANT NAT. PARK 4X4 TOUR KABOUGA SECTION
At a Glance
Tour duration: Full day trip
Group size: Minimum of 2 people per tour
Tour departs from: Port Elizabeth
Price: From R3650 per person
Tour Highlights
Explore the rough terrain in Kabouga in a 4x4 Landcruiser
Learn the fascinating history of a running battle between the Boers and the British
Drive through rugged valleys and mountain peaks
Keep an eye out for Rhino, Eland, , Zebra, Klipspringer, Red Hartebeest and Warthog
Many other species of birds and animals
Scenic viewpoints
Suitable for those interested in Adventure, Battlefields, Nature
Details
Spend a day exploring this rough terrain in the northern Addo Elephant National Park; keep an eye out for Hartebeest, Zebra, Eland, Red, Klipspringer and Warthog amongst the many other species of birds and animals. Stop for a well-prepared picnic lunch. Scenic viewpoints between slopes through which we need to negotiate the 4 x 4 vehicle. Learn the fascinating history of a running battle between the Boers and the British through these mountain peaks.

7:30 am pick up at place of residence in Port Elizabeth and depart in the 4 x 4 safari vehicle for the Kabouga section, Greater Addo Elephant National Park. We travel via the picturesque town of Kirkwood before entering the rugged Northern areas of this famous National Park. This is a unique experience and one will meet few if any other tourists.

Checking in, we travel through increasingly rough terrain, keeping an eye out for species such as, Eland and Warthog, Klipspringer, Red Hartebeest and Zebra as well as the stately Kudu, the males with their huge horns blending into the background.

We spend the day exploring the area while constantly heading North through changing scenery into a valley where we take a coffee break on the banks of the Sundays River while stretching our legs in this wilderness area.

Continuing, we traversing undulating terrain, steep sided valleys and rocky streambeds, ever alert to the birds and beasts that inhabit the area.
We stop under the riverine trees in these steep valleys where we unpack our picnic lunch. After lunch we summit the top of the Zuurberg Mountains, a place offering huge vistas both to the South towards the coast and the North into the Little Karoo, Lake Darlington and beyond.

From the summit we start descending into the Little Karoo, where we keep a watch for Zebra and Ostrich and the possibility of sighting a rare Black Rhino before reaching Lake Darlington and slowly make our way back to Port Elizabeth.

Note
Tour includes:
* Entrance/conservation fee Addo Park
* 4 x 4 fee Kabouga
* Coffee/tea break
* Picnic lunch
* Bottled water in the tour vehicle