Events in Hartbeespoort

IMPI Challenge
Please Note
This event has already taken place. All details published in good faith, as supplied by the organisers. Please check our current and upcoming events list for events to attend.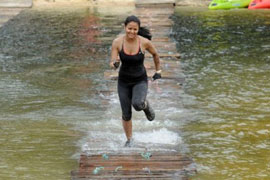 The IMPI Challenge will test your wits, courage, stamina and fitness over 12 challenging kilometres and 17 extreme obstacles.
We hope you have been pumping weights and getting excited for a day of fun, mud and ultimate challenges! The terrain will be a muddy and wet obstacle course. The Vit-T-Go Tank, Snake Pit, Lilly pads, Leap of faith and Swamp thing just to name a few of the many obstacle challenges.
This challenge is for everybody, male and female but you must be over 16 years old. So if you are up for the challenge come and join us to become an IMPI warrior!
Venue: Van Gaalens Farm, Hartbeespoort
Please Note: Dates for this event to be confirmed.