South Africa Travel
Western Cape, South Africa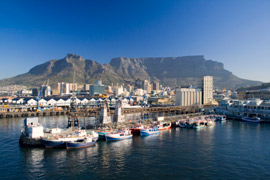 Western Cape and Cape Town Travel Guide / If the Western Cape were a woman, she would turn heads. As a province of South Africa, the Western Cape draws millions of visitors each year to a seemingly small area if compared with other provinces in South Africa, but one that is so beautiful that it can't help the distinct attention it draws.

Affixed to the tip of Africa as it is, the Western Cape lies bordered by two oceans - the Indian Ocean to the south and the Atlantic to the west - which goes a long way to clarify its allure. The wild Cape Agulhas coast, the extraordinary magnificence of the Garden Route, the sparse, sweeping stretches of sand, punctuated only by rocky outcrops and fishing villages, of the West Coast notwithstanding, it is not the coastline alone that draws the crowds. The constant reassuring presence of immense peaks form the backdrop to a land so lovely in parts that the emerald lakes and indigenous forests of the Wilderness, the sun-drenched vineyards of the Cape Winelands, the magnificent passes to reach the interior and the wide, windswept arid spaces of the Klein Karoo seem part of a fantasy landscape that often defies description.

Introduction to Western Cape
Cape Town City - Business District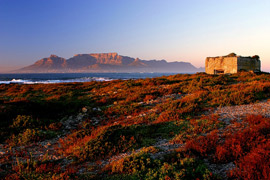 The heart of the Western Cape is without doubt the
city of Cape Town
. With a distinct flavour of its own, affected in no small part by the cultural melting pot of Indonesian, French, Dutch, British and German settlers who each indelibly stamped their mark upon the foundations of the city,
Cape Town
is one of the most beautiful cities in the world today.
The inner city is an eclectic mix of architectural styles that combine the past with the present in a mishmash of high-rise office blocks, Edwardian and Victorian buildings and narrow, cobblestone streets that give rise to fine examples of Cape Dutch design. It is also home to a blend of corporate and independent business that lends it a striking aliveness, particularly at lunch time when the streets spill over with a combination of lunch time diners and consequent entertainers and market stalls.
Constantly engulfed by the vast maternal presence of
Table Mountain
, the inner city combines with an effortless choice of white sandy beaches, must-visits like
Robben Island
,
Cape Point
and the
Victoria & Alfred Waterfront
, magnificent green areas with rivers, vleis and dams, a floral kingdom that is wholly unique to the Cape and an effortlessly warm climate that makes the Western Cape a logical destination throughout the year.
Introduction to Western Cape
The Western Cape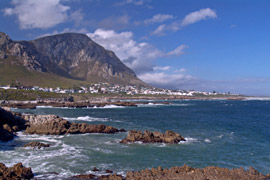 The vibrant coastline that stretches from Lambert's Bay on the West Coast all the way around to
Witsand
, offers an incredible diversity. From sweeping sandy beaches that are perfect for swimming and sunbathing, where children get to splash in the shallows, to stormy narrow shores with crashing waves that threaten your very mettle but provide awe-inspiring views from surrounding cliffs, along which some of the country's greatest hikes like the
Otter Trail
pass, you will not be disappointed.
The
Cape Whale Coast
in particular creates quite a stir and draws to our shores a uniquely intelligent and remarkable creature that never fails to ignite in those who come to see them a sense of well-being and incredible pleasure at having viewed them from so close.
Whales
, including the Southern Right Whale and less commonly the Bryde's (pronounced 'broodess') and the Humpback Whale, are frequently sited along the
Cape Overberg
Coast from Stony Point near
Betty's Bay
, along the cliff paths of
Hermanus
,
Kleinmond
, Onrus, Walker Bay, the
De Hoop Nature Reserve
and Witsand. These gentle giants spend summer feeding around Antarctica and then migrate thousands of miles to our waters where the sheltered bays of the South African coast provide perfect refuge to mate and calve.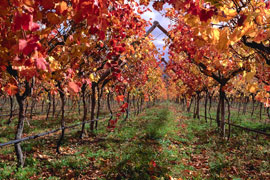 The
Cape Winelands
of the Western Cape are another of the huge draw cards to South Africa that manage to effortlessly combine the beauty of ripening vineyards, Cape Dutch manor homes and excellent cuisine in valleys surrounded by indigo mountains to such effect that visitors return to fully appreciate the many
wine routes
and estates on offer. Many of these are within easy reach of Cape Town, particularly those in
Stellenbosch
,
Paarl
,
Franschhoek
and
Wellington
, but there are those slightly further afield in other wine-producing valleys - the
Breede River Valley
, the
Swartland
and the
Olifants River Valley
, to name but a few - that are equally inviting (see
Cape Wine Routes
).
The
Overberg
with its myriad villages, mountains and coastline; the citrus-bearing
Cederberg
with its incredibly intense summers and amazing mountain scenery, and the
Breede River Valley
that includes timeless villages like
McGregor
,
Swellendam
and Malgas are other reasons to
visit the Western Cape if you haven't yet added it to your itinerary
.
Additional Reading:
For more information you might find the following useful:
Discovering the Western Cape
or
Read our Blog articles under Western Cape at
Western Cape Blog
.
Find Accommodation:
Find accommodation for your holiday:
Western Cape Accommodation
(search by Map).
Find accommodation for your holiday:
Cape Town Accommodation
(find accommodation by Town). Find hotels for your holiday:
Cape Town Hotels
(find hotels by Town).
Did You Know?
Table Mountain, Cape Town's most famous landmark: A quick spin by revolving cable car to the 1,086m summit, will give the visitor a splendid view of Cape Town, one of the most beautiful cities in the world, and of course the equally famous Robben Island.
Combine your wildlife safari with a relaxing, revitalising visit to a health spa ... and enjoy Africa at its finest. View our exclusive collection of spas, wellness centres and health resorts Cape Town.