Gauteng Things To Do
Hot Air Ballooning at Hartbeespoort Dam (Hartbeespoort Dam)
Categories: Scenic Flights
Price group: On Request (see other things to do in this price group)
Available in the following region(s): Hartbeespoort Dam
Address: Jasmyn, Meerhof Farm, Corner R511 and Jan Smuts Way, Meerhof, Hartbeespoort Dam, North West Province.
Telephone: +27 (0)73 000-7679
Opening hours: By appointment.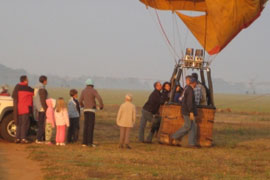 Enjoy an unforgettable adventure while you experience total peace and tranquillity over some of the most splendid scenery our country has to offer, with nothing to disturb the peace but the occasional hiss of the burners above you.

Hot Air Ballooning creates memories, memories are forever. Watch the sun rise from a Hot Air Balloon over Hartbeespoort Dam. Your Hot Air Ballooning Experience begins just before sunrise. Hot chocolate and marshmallows, or tea and coffee is served on your arrival while the crew prepares the balloon for inflation. Feel free to totally immerse yourself in the moment and get involved in the inflation process, under the guidance of your pilot or an experienced crew member. You are sure to learn some interesting facts about Hot Air Ballooning.

Flights are generally about 1 hour to 1 hour 20 minutes, depending on the winds. On a clear day your pilot will be able to point out places of interest in Hartbeespoort area, as well as views of Johannesburg and Pretoria. A traditional champagne toast and cold beverages are enjoyed on landing while the crew packs up the balloon. Thereafter, passengers are transported back to the Windmill Restaurant for a healthy to hearty breakfast. You are sure to be left in awe by the whole experience.
Why Not Overnight?
Find Accommodation in Hartbeespoort Dam
Cocomo - The place you want to go. An elite, upmarket and contemporary styled guesthouse and conference centre offering high quality accommodation ...
Stirling Manor provides an up-market European stay in the heart of South Africa. We provide a unique, exclusive, sanctuary for today's traveller, be ...
Related Pages
Travelling to Hartbeespoort Dam
• Meerhof Attractions
• Meerhof Accommodation
• Things to do in Hartbeespoort Dam