Eastern Cape Things To Do
Red Apple Farm Stall (Bushman Sands)
Categories: Arts & Crafts / Cafés & Eateries / Farm Stalls & Markets / Wheelchair Friendly
Price group: Free to browse (see other things to do in this price group)
Available in the following region(s): Sunshine Coast
Stay Overnight: See Bushman Sands accommodation, in Eastern Cape
Address: Erf 1047 (the Orange Building right next to the R72 road opposite the Boesmansriviermond turnoff), Riversbend, Boesmansriviermond, 6190, Eastern Cape
Telephone: +27 (0)46 648-1404
Opening hours: Monday to Friday from 08h30 to 17h15.
Saturdays from 09h00 to 14h00.
Sundays from 10h00 to 14h00.
To see more restaurants:
South Africa Restaurants / Eastern Cape Restaurants / Bushman Sands Restaurants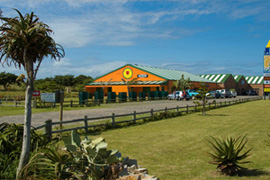 So much more than a Farm Stall, The Red Apple is a veritable treasure trove of exquisite and interesting things. Some imported, some local; their gifts and products are unique special. Amongst many other things, woodwork of the highest quality is featured, world-renowned decopage, mosaic, art and Africana. For foodies they offer a variety of spices, cheeses, meats (including biltong and droëwors), delicious locally baked goods, sweets and drinks.

The coffee shop serves the best coffee you're likely to encounter in the Eastern Cape. Taste 100% Arabica Caffè Molinari® ground coffee imported from Italy. Or you can buy filter coffee from renowned local coffee makers, Masterton's. The Red Apple also serves real Espressos, Macchiatos, Cappuccinos, Caffè Lattes and Iced Coffee. "Our coffee is our pride but it is by no means the only thing on our menu. We also serve light meals, salads and many other things that you'd expect from a full restaurant. And our breakfasts are consistently the most popular items on our menu!"
Related Pages
Travelling to Bushman Sands