Eastern Cape Things To Do
Elephant Safari (Greater Addo)
Categories: Big Game & Wildlife
Price group: R501 to R1000 per person (see other things to do in this price group)
Available in the following region(s): Greater Addo
Stay Overnight: See Greater Addo accommodation, in Eastern Cape
Address: Elephant Safari Lodge, Zuurberg, Greater Addo, Eastern Cape.
Telephone: +27 (0)42 235-1400 or +27 (0)83 375-6514
Opening hours: Daily at 08h00, 11h00 and 15h30, Booking essential.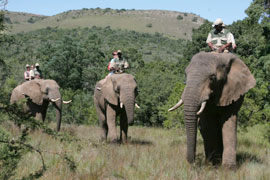 Walk with the Elephants through the diverse valley bushveld, ravine and forest habitat unique to this part of the Eastern Cape. The informative walk-and-talk takes a very leisurely pace set by the elephants themselves and is in no way strenuous. The walk allows you to interact with, feed and observe the elephants in their natural habitat while our trained and qualified handlers share their specialized knowledge and insight into both the elephants and this unique eco-system.

After the walk, enjoy the exhilarating experience of riding these magnificent animals - revel in the natural beauty of the environs and its wildlife from your lofty seat as these gentle giants amble through the African bush. At the conclusion of the ride enjoy a close-up view of the elephants swimming and frolicking in their favoured waterhole from the viewing deck at the boma - no guarantee that you won't get sprayed with a trunkful of water!

This is a 3 hour excursion. Includes Ride, walk, feeding the elephants, a meal and beverages. Children are allowed to ride the elephants, with a parent accompanied by an elephant handler. (Discounts available for children under the age of 12 years).
Why Not Overnight?
Find Accommodation in Greater Addo
Set in a secluded valley, 45 minutes from Port Elizabeth, flanked by sub-tropical thicket covered ridges, Quatermain's camp embodies the original spirit of safari. This classic 1920's style expedition camp is modelled on the heyday of exploration, that golden ...
Come and enjoy a peaceful breakaway at "The Farm House", the main homestead on the farm Wycombevale. "The Farm House" is centrally situated in Elephant country for guests wanting to visit the malaria free Game Reserves of the Eastern Cape ...
Related Pages
Travelling to Greater Addo
• Things to do in Greater Addo
• Addo Accommodation
• Zuurberg Accommodation
• Greater Addo Attractions
• Addo Elephant Park