Golfing in South Africa
North West Province Golf Courses
The Sun City Resort put this region on the international golfing map. The resort borders the fourth largest game park in the country, the Pilanesberg National Park, and a visit to both the resort and the park is a must. From a golfer's point of view it is hard to find two golf courses of such high quality, so different, so close together: The Gary Player Country Club is one of South Africa's top Golf Courses, and the Lost City Course is not far behind.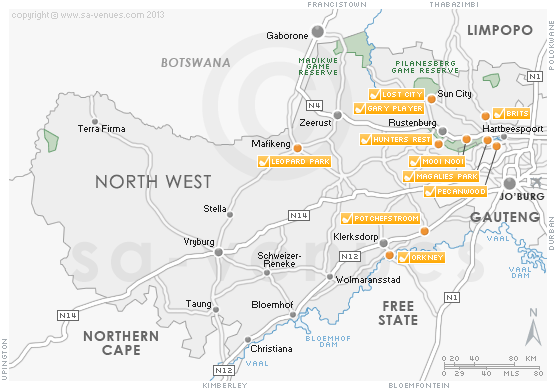 North West Province Golf Tours
Experience a unique North West Province Golf Tour / The North West Province offers visitors a fine selection of golf courses in scenic settings, ideal as part of a Golf Tour to South Africa. Choose a package tour which incorporates the "must-see" attractions of the North West Province and our unique North West Province golf courses, which will challenge the amateur and professional alike.
golf courses in north west province
Combine your wildlife safari with a relaxing, revitalising visit to a health spa ... and enjoy Africa at its finest. View our exclusive collection of spas, wellness centres and health resorts in North West.