South Africa Travel
Get Listed on SA-Venues.com™
With millions of people making travel arrangements on the Internet, it is now essential to promote your Travel Service on the Internet. SA-Venues.com™ is the largest, most visited, South African Travel site available in both English and German Languages.
Please Note
For the protection of all advertisers on the SA-Venues.com sites we limit the number of advertisers in each area so waiting lists sometimes apply. We cannot guarantee that we will accept all advertising requests. We require a completed application form in order to assess whether we are able to add your property or if a waiting list applies.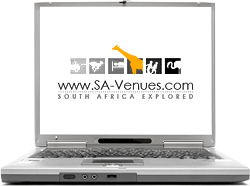 Get Listed on SA-Venues.com
SA-Venues.com Background
SA-Venues.com was launched in May 1999, and has grown consistently to its current average of +/- 311,334 pages viewed per day (a total of 9.34 million Pages were viewed in November 2012).

SA-Venues.com™ has a proud history of being well ranked on the top search engines and has been delivering consistent results for its advertisers over the past fourteen (14) years (see client quotes).

Having your venue or establishment listed on www.SA-Venues.com™ gives you the opportunity to advertise your service to the ever increasing number of visitors to the SA-Venues.com™ network of sites which include international and local travellers looking for accommodation in South Africa, wedding and conference venues and travel related services.
NEW: go! Travel South Africa App
SA-Venues.com™ is proud to be a part of and provide content for the award-winning
go! Travel South Africa app
which was developed by Touchlab, a division of Media24. All SA-Venues.com advertisers (with valid GPS coordinates) are available for viewing on this app. For the full story and to see a short video see:
go! Travel South Africa app.
The SA-Venues network of sites includes a full German website servicing the German travel market (see: Suedafrika Reise) as well as 9 provincial accommodation websites.

From R1295.00 per annum (see advertising rates) can you afford not to expose your service to the growing number of travellers who do their research and planning via the World Wide Web?
Why is SA-Venues.com™ so popular?
Now with
over 9 million pages being viewed per month
(and still growing) the numbers speak for themselves. Both local and international leisure and business travellers will see your advertisement on SA-Venues.com™. What makes SA-Venues.com™ such a popular site for the visitor to and within South African?
Site users know they are dealing directly with the establishments and not with a 'middle man' who claims a commission on their booking. So they know they are getting the best rates and service.
SA-Venues.com™ offers its site users comprehensive information about South Africa and its attractions ... we do not only display advertisements that try to 'sell' to the user. Users keep coming back because we offer them a comprehensive service from which they can arrange all aspects of their trip, from accommodation in all categories (luxury 5 star hotels to budget accommodation) to comprehensive travel and leisure information.
Why choose SA-Venues.com™
Being listed on SA-Venues was the best day in the history of 138 Marine Beachfront Guesthouse. You certainly have discovered the secret of delivering a stunning service to your advertisers - thank you so much!
Can I just say that I have been so impressed with the response that I have had from SA-Venues already. I just wish I'd taken it out a year ago now!! If you have any prospective clients who are nervous about making the investment (as I was), then feel free to use me as a reference.
Can you believe that another year flew by! In the three years that Bit O' Bush have competed in this huge industry our association with SA-Venues was one of the most successful. Thank you! I don't know how you do it, but you are still the best! I have made payment today with great gratitude.
Many thanks for a web site that really achieves what they promise. We are delighted to be with you.
SA-Venues are truly one of the best sites to advertise with, as it is the site that brings in the most bookings for our lodge. Thank you very much for all your assistance with our listing & specials we place.
Our guest house (Gastehuisie) in Krugersdorp has been on your website for a couple of months. The response has been excellent! I have never before had so many internet bookings. Thank You!
Just to let you know that the response I have received from advertising Seagetaway on SA Venues has been amazing! I am a very satisfied customer.
Just a quick note to all at SA Venues - Our advertising has been widespread, varied and very expensive. Your company wins hands down and is amazing. Well worth every cent. Many thanks for all your valued bookings.
I get an excellent response from SA-Venues, the majority of my enquiries come from your website and I really appreciate it. Thanks for your help and for a website that really works.