Events in Ottosdal

Ottosdal Draf and Trap - Night Race
Please Note
This event has already taken place. All details published in good faith, as supplied by the organisers. Please check our current and upcoming events list for events to attend.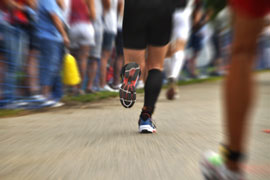 Ottosdal Draf and Trap is a night race that takes place at the Ottosdal Showgrounds in Ottosdal. Over the last four years the race has been acclaimed as South Africa's seventh best race overall, so you should come and check out what makes this race so fantastic.
This is the only marathon run at night in South Africa and the organisers make sure that everyone who takes part really enjoys the race. The route is fairly scenic and is given it's own magic with the number of lanterns place 15 metres apart in the middle of the road for the length of the course. The race is generally a gentle downhill but the first two kilometres are quite a steep hill.
Even if you're not as fit as you'd like to be you'll find something you can manage because not only are there both a full and half marathon but also a ten and five kilometre race.
Ottosdal Nite Race:
Start Times:
• 5km Fun Run - 16:30
• 10km - 18:40
• 21.1km - 18:30
• 42.2km - 17:30
Ottosdal Diamond Cycle Race:
Start Times:
• 84km - 8:00
• 40km - 8:15
• 20km MTB - 8:30
• 40km MTB - 8:45
• 10km Fun Race - 9:00
Come and test what you're made of at the annual Ottosdal Draf and Trap.
Venue: Ottosdal Showgrounds, Koster Street
Contact: Willa Naude on +27 (0)73 526-4536 or +27 (0)18 571-0049 for more information
Please Note: Dates for this event to be confirmed.