Northern Cape Events
Gariep Kunstefees (Kimberley)
When: Dates to be confirmed (Friday, 30 August 2013 to Monday, 02 September 2013)
Where: Kimberley
Categories: Annual Festivals / Music Festivals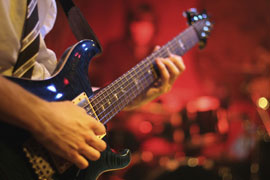 The Gariep Kunstefees (arts festival) held anually in Kimberley, has an impressive line-up of local musicians, a film festival showcasing new film-makers, as well as art exhibitions and children's theatre.

Contact: Tel: 053 832-50140

Please Note: Dates for this event to be confirmed.
Stay a Day or Two?
Find Accommodation in Kimberley
The Kimberley Club, famous since 1881, is an historical 4-star boutique hotel situated in the Kimberley CBD area, providing luxury accommodation, ...
Endless water views, the call of the fish eagle, breathtaking sunsets and champagne under a starry sky. Broadwater is a private river escape that ...
Related Pages
Kimberley Tourism
• Kimberley Hotels
• Kimberley Accommodation
• Kimberley Guest Houses