South Africa World Heritage Sites
Robben Island World Heritage Site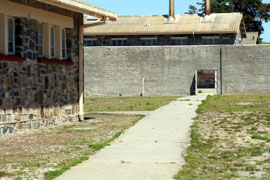 Robben Island was used at various times between the 17th and 20th centuries as a prison, a hospital for socially unacceptable groups and a military base. Its buildings, particularly those of the late 20th century such as the maximum security prison for political prisoners, witness the triumph of democracy and freedom over oppression and racism.

Robben Island:
For nearly 400 years, Robben Island, 12 kilometres from Cape Town, was a place of banishment, exile, isolation and imprisonment. It was here that rulers sent those they regarded as political troublemakers, social outcasts and the unwanted of society. During the apartheid years Robben Island became internationally known for its institutional brutality. The duty of those who ran the Island and its prison was to isolate opponents of apartheid and to crush their morale. Some freedom fighters spent more than a quarter of a century in prison for their beliefs. Those imprisoned on the Island succeeded on a psychological and political level in turning a prison 'hell-hole' into a symbol of freedom and personal liberation.

Justification for Inscription: Criterion (iii):
The buildings of Robben Island bear eloquent testimony to its sombre history. Criterion (vi): Robben Island and its prison buildings symbolize the triumph of the human spirit, of freedom, and of democracy over oppression. (Source: UNESCO).

Robben Island came to symbolise, not only for South Africa and the African continent, but also for the entire world, the triumph of the human spirit over enormous hardship and adversity. People lived on Robben Island many thousands of years ago, when the sea channel between the Island and the Cape mainland was not covered with water. Since the Dutch settled at the Cape in the mid-1600s, Robben Island has been used primarily as a prison.

Indigenous African leaders, Muslim leaders from the East Indies, Dutch and British settler soldiers and civilians, women, and anti-apartheid activists, including South Africa's first democratic President, Nelson Mandela and the founding leader of the Pan Africanist Congress, Robert Mangaliso Sobukwe, were all imprisoned on the Island. See additional info at Robben Island.

Did You Know?
World Heritage Sites recognise and protect areas of outstanding natural, historical and cultural value. Given South Africa's diverse culture and history and her spectacular natural resources and wildlife, it is not surprising that South Africa boasts 8 World Heritage Sites.