South Africa World Heritage Sites
Fossil Hominid Sites of Sterkfontein, Swartkrans, Kromdraai ...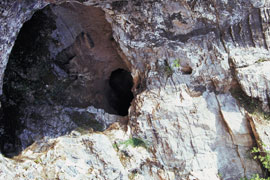 The Fossil Hominid Sites of Sterkfontein caves, Swartkrans, Kromdraai, and Environs have produced abundant scientific information on the evolution of the human being over the past 3.5 million years, his way of life, and the animals with which he lived and on which he fed.

The landscape also preserves many features of that prehistoric period. The Taung Skull Fossil Site, part of the extension to the site inscribed in 1999, is the place where in 1924 the celebrated Taung Skull, a specimen of the Australopithecus africanus species, was found. Makapan Valley, also in the site, features in its many archaeological caves traces of human occupation and evolution dating back some 3.3 million years. The area contains essential elements that define the origin and evolution of humanity. (See Cradle of Humankind Map)

Justification for Inscription: Criteria (iii) and (vi):
The Sterkfontein area contains an exceptionally large and scientifically significant group of sites which throw light on the earliest ancestors of humankind. They constitute a vast reserve of scientific information, the potential of which is enormous. (Source: UNESCO).

The Cradle of Humankind:
The Site lies mainly in Gauteng with a small extension into the neighboring North West Province, and covers 47 000 hectares of land mostly privately owned. The Cradle of Humankind Site comprises a strip of a dozen dolomitic limestone caves containing the fossillised remains of ancient forms of animals, plants and most importantly, hominids. The dolomite in which the caves formed, started out as coral reefs growing in a worm shallow sea about 2.3 billion years ago.

As the reefs died off they were transformed into limestone which some time later was converted into dolomite. Millions of years later after the sea had receded, slightly acidic groundwater began to dissolve out calcium carbonate from the dolomite to form underground caverns. Over time the water table dropped and the underground caverns were exposed to the air. The percolation of acidic water through the dolomite also dissolved calcium carbonates out of the rock into the caverns, which formed stalactites, stalagmites and other crystalline structures. Continued erosion on the earth's surface and dissolution of the dolomite eventually resulted in shafts or avens forming between the surface of the earth and the caverns below. Bones, stones and plants washed down these shafts into the caves; and animals and hominids fell into the caves, became trapped and ... click to view more detailed information about the Cradle of Humankind.

Did You Know?
World Heritage Sites recognise and protect areas of outstanding natural, historical and cultural value. Given South Africa's diverse culture and history and her spectacular natural resources and wildlife, it is not surprising that South Africa boasts 8 World Heritage Sites.