Things To Do in Muizenberg

Walk on the Catwalk

Miscellaneous Walks & Hiking Whale Watching False Bay

Where? Beach Rd, Beachfront sidewalk between St James and Muizenberg, False Bay Coast.

When? Daily during daylight hours.

How? Call +27 (0)21 787-9140

How much? Free

Overnight? Stay at accommodation in Muizenberg, in Western Cape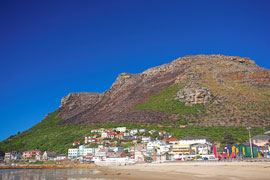 Take a leisurely stroll tickling all the sea anemones in the rock pools along the way or take a brisk walk pacing your stride with the tide.
The Muizenberg Catwalk is a shoreline walk on a level pathway with the railway line on the mountain side of the path. Breathe in the fresh air, stretch your legs, appreciate the Cape coastline, get sea sprayed wet at high tide and enjoy the view of the mountain ranges; all to the background music of crashing waves and the occasional passing train.
This Indian Ocean stretch on the False Bay basin is a whale watchers paradise during whale season (August to October) and a peaceful Cape Ocean encounter all year round. The walk takes on average 40 minutes in each direction with nothing separating you from the sea and the occasional breach of a Southern Right Whale as you head South. Take a walk on the wetside and build castles in the sky.