Things To Do in Robertson

Rusticus Vintage Cellar

Wine Tours & Tasting Breede River Valley Route 62

Where? Klaasvoogds West, Robertson, 6705, Western Cape, South Africa

When? Tuesday to Saturday from 08h30 to 16h00. Monday and general public holidays by appointment.

How? Call +27 (0)23 626-2033

How much? Falls into price group R1 to R100 per person. Confirm with the provider.

Overnight? Stay at accommodation in Robertson, in Western Cape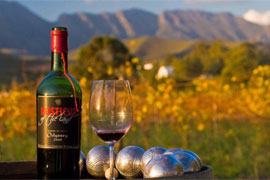 As of 31 August 2012, Rusticus has sold out of all its wines & closed its doors.
Rusticus is a Latin word that means "belonging to the land" and the Busch family chose this name for their wines to testify to the natural, home-grown quality of the fabulous label for which they are responsible. For more than 30 years, this farm produced excellent grapes for the wine industry. But, it was only in 2002 that the family took the plunge and began to produce their own delicious red wines.
In keeping with their vision of quality wines that were different from what already adorns the shelves, the family restored antique wine-making equipment, shunning modern tools that make the process quicker and easier. This adherence to traditional equipment makes a cellar tour interesting and fun, transporting you to a world gone by. Rusticus Vintage Cellar produces only red wines, comprising Pinot Noir, Merlot, Cabernet Sauvignon, Shiraz and Pinotage.
Wine tastings and cellar tours are conducted from Tuesday to Saturday (and on Monday, by appointment). In addition, visitors to the area are invited to explore the mountains and valleys of Robertson, as well as the historical little town.
Please Note
Business details can change. All information is published in good faith as supplied by the providers. Please check with the provider that the activity/business is still offered as described above, before making any travel plans.