Things To Do in Rondebosch

Rondebosch Village Market

Farm Stalls & Markets Southern Suburbs

Where? Outside the Rondebosch Library, Belmont Road, Rondebosch, Cape Town

When? Every Saturday from 07h30 to midday.

How? Call +27 (0)21 696-5749 or +27 (0)72 222-6410

How much? Free to browse

Overnight? Stay at accommodation in Rondebosch, in Western Cape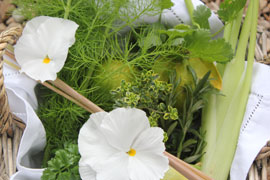 The Rondobosch Village Market is a small market held on a weekly basis just outside the Rondebosch library.
Although a small market, it offers a wide variety of organic and biodynamic fresh produce and a selection of jams, pickles, cheeses and other dairy products. Hand made goods are also for sale. Parking is available in the library parking lot but be warned that the early bird catches the worm at this market and the good stuff might be gone if you arrive too late!
Please Note
Business details can change. All information is published in good faith as supplied by the providers. Please check with the provider that the activity/business is still offered as described above, before making any travel plans.