Eating Out in Bonnievale

Museum Cafe & Gallery

Cafés & Eateries Museums Breede River Valley Route 62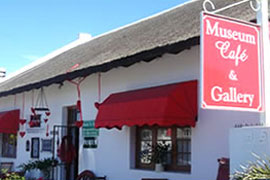 Bonnievale has the "Littlest Museum" in South Africa, originally an initiative of Oom Daantjie le Roux. The collection started many years ago on the farms Kapteinsdrift and Angora Stud where Oom Daantjie grew up and farmed. From childhood he was an ardent collector of interesting things. In The Cafe our visitors now have the priviledge of enjoying a cup of tea or coffee from an antique cup and saucer of their choice, while being taken back into history.
Enjoy a delicious slice of homemade Cheese, Chocolate or Carrot cake as well as light lunches in this serene atmosphere. The Museum Cafe & Gallery is housed in a quaint little thatched bulding on Main Street in the heart of Bonnievale.