Things To Do in Oudtshoorn

Interact with Elephants at Buffelsdrift

Animal Sanctuaries Big Game & Wildlife Walks & Hiking Karoo Route 62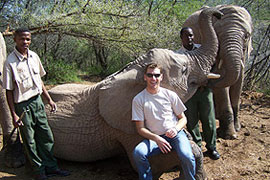 Day visitors and guests at Buffelsdrift Game lodge are invited to join their 3 baby elephants for an early morning or late afternoon walk around the waterhole and watch the sun set on the horizon.
The Elephant experience at Buffelsdrift offers an opportunity to interact and feed our elephants. Get to know these gentle giants by name and their meanings from close up, feel the texture of their skin, scratch behind their ears and sit on an elephant's knee ...