Things To Do in Stellenbosch

Horse Ride through Spier Vineyards

Where? Spier Equestrian Centre, Spier Wine Farm, on the R310 en-route to Stellenbosch, Cape Winelands.

When? By booking only. Monday to Sunday during daylight hours

How? Call +27 (0)21 881-3683

How much? Falls into price group R201 to R500 per person. Confirm with the provider.

Overnight? Stay at accommodation in Stellenbosch, in Western Cape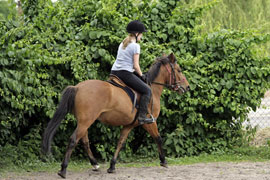 This Thing to Do no longer exists - This page is for reference purposes only
Anyone fluent in 'Horse' would most certainly is able to confirm from a quick eavesdropping of the stables at the wine farm of Spier that happiness gallops in this stunning setting. In the pristine valley paddocks surrounded by kingdoms of mountains with Cheetah's for neighbours, horses trot around ponds and steams decorated with generations of vine that twine.
Despite the superlative scenery and their stylish lifestyle, the humble horses are well mannered enough to appreciate all donated carrots and apples (although they did probably learn this politeness at some kind of fancy Foal Finishing School).
A selection of professional riding instructors guide you through the basics; from tacking up a horse with saddle and reign offering additional helpful hints if needed like 'yes you could mount that way but you might find it more pleasant to have your head facing the horse's mane rather than the tail to begin with'; to expert tips for show jumpers. There are a variety of horses for all levels of riding some endearingly named after the colour of piano keys and characters from the Lord of the Rings Trilogy.

Booking is essential but as easy as phone call when the mood strikes you. Riding helmets are provided but you might want to think about practicing some clicking instructional giddy-up sounds of your very own on the drive over so that Ivory or Gandalf interpret your novice noise as an encouragement for speed and not as a mating chant to the farm crickets. Holiday riding camps and corporate teambuilding are well enjoyed group activities bonding all two and four legged mammals.
Wine tastings rides on the estate can be arranged (for you, not for the horses) while on outrides with an optional picnic (for you and the horses if you like). Professional lessons can also be scheduled in the disciplines of dressage, eventing and show jumping. Wonderful ponies lead gleeful children around the lawn with an instructor beside them; another great horse introduction for the little ones is a horse carriage tour.
For the proficient horse rider, livery, stabling and leasing of horses are an option allowing you the luxury of making this landscape and activity part of your day everyday; if your fortune hangs your horseshoe the lucky way.
Please Note
Business details can change. All information is published in good faith as supplied by the providers. Please check with the provider that the activity/business is still offered as described above, before making any travel plans.